American Cruise Lines has what it feels is an important advantage over its competitors in the U.S. river cruising markets, American Queen Voyages and newcomer Viking River Cruises: the company builds its own ships at its family-owned shipyard. It is something that the company has been doing since its inception half a century ago, when it was building a very different kind of vessel.
"We started out about 50 years ago. My dad, with a couple guys and a piece of dirt in Maine, started building boats," said Charles B. Robertson, CEO of ACL and son of the company's late founder, Charles A. Robertson. "It's really very organic with how American Cruise Lines started and grew. It came out of necessity; it just wasn't something that was offered in this country for the U.S. flag."
Robertson said having Chesapeake Shipbuilding in its family portfolio affords American Cruise Lines "the advantage of aligning design, construction and operation" that is a defining characteristic of the line.
• Related: American Cruise Lines adding national parks post-tours
While some companies typically have an integral role in designing, constructing or operating their own river cruise ships, the common practice, Robertson said, is to use outside contractors and vendors to produce a company's river ships.
"The normal process would be that you go to a naval architect and you start your design work, then you go to a shipyard and bid out the construction, and then [companies] take ownership of it and operate the boat," Robertson said. "We bring all three of those factors together: design, construction, and operation. That's really what makes us unique."
"As we've evolved over this 50-year history, we've really learned a lot about the process, and it's become part of how we define the next class of ships," Robertson said. "We really see how they're built, how they're operating in the field and then take that feedback back to the architects and work on the next boat."
Accelerating production
Production times can be lengthy, taking 14 to 16 months to build a single ship, according to Robertson. American Cruise Lines' solution: it recently ramped up its production efforts at the shipyard in Salisbury, Md. Robertson said the company started building two ships at a time in 2021 and are now, with its latest Project Blue venture, building three ships at a time. Today, the company has 13 ships in its fleet; it will have 15 by the end of the year.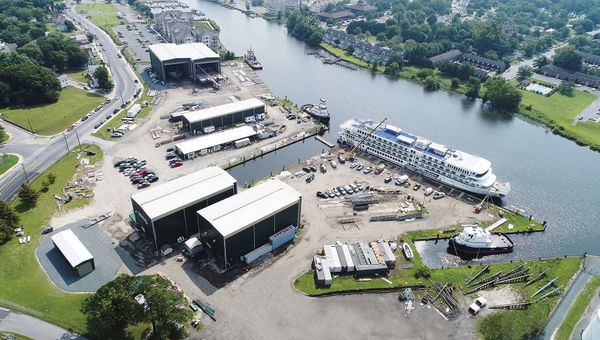 American Cruise Lines recently ramped up production efforts at its Chesapeake Shipbuilding yard in Maryland, currently building three ships at a time. Photo Credit: Chesapeake Shipbuilding
Still, building your own ships doesn't come without its challenges — and it's not cheap, either.
"It's actually more expensive to build your own ships. But the payoff is worth it," Robertson said.
And beyond the cost, "shipbuilding is not easy. It is hard," he said. "You never have anyone else to blame. If you're hiring a shipyard to do it, there can always be finger-pointing, and everyone gets to pass the buck. We don't have the same luxury."
Supply chain snags
The current supply chain issues have impacted American Cruise Lines' production process like anyone else. In the past, the company could order supplies while in the early stages of building a ship, such as laying a keel. Now it must put in supply orders at least six months to a year in advance before construction on a ship begins.
In addition to building its own fleet of small vessels that sail rivers, lakes and coastal waters, American Cruise Lines remains true to its roots, still building commercial vessels (including tugboats) for companies that commission ACL's services.
"If it's made of steel, we can build it," Robertson said. "We also have built a lot of ferries and dinner boats. We have not built another cruise ship, but we would. We could do a great job."
Robertson always has his eye on the competition and is a keen observer of all cruise lines, ocean as well as river.
"There are a lot of lines that I have respect for," Robertson said. "I'm very excited for what MSC is doing with their new Explora brand. I think that's a really exciting design and construction process. I think it's going to be a great product. There are a lot of new things happening in the industry. There's opportunity in the chaos, and I think many are taking advantage of it."